Be a life-changer, Donate Today!
January 17, 2017
Flint Fundraiser Update – People in Crisis Helping People in Crisis!
February 9, 2017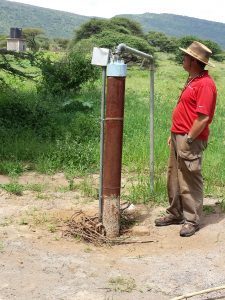 Made a Wells for the World presentation at the Flint Eastside Church of the Nazarene on January 22, 2017. I'm excited that this inner city church, whose people have their own water crisis, are supporting our well repair project in Ewuaso (Kedong), Kenya. This little inner city church has challenged their congregation to raise $300 by bring in pop/soda cans (worth $0.10 each in Michigan) and change, and the church will match $ for $ their contributions. WftW needs to raise $7,500 to replace the pump in this purported 1,100 ft (350 m) deep well south of Ewuaso, and conduct a 24-hour pumping test and 20-hour recovery test, install a new flow meter, permit the well, and place it back into service. People near the well have to walk 8.5 miles (one way) to get water from the next available source. Once repaired, the well could provide about 1,600 people with clean, sustainable drinking water!